High-Quality Winchester Remodeling Contractors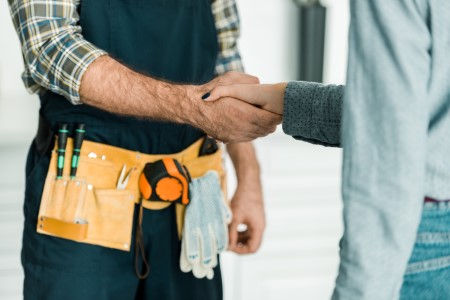 Fryer Construction LLC is a Winchester remodeling contractor leader because we make our customers' needs our number one priority. We're in the business of bridging the gap between the house you currently reside in and the dream home you've always wanted.
We're your one resource for anything from the roof down. That means you can feel confident about getting high-quality service from our Winchester team, and that we'll take care of any work you need to be completed.
Creating a house is about beauty, but it's also about knowing you have a safe and durable place for you and your family to call home. You'll love the work we do for you, and the finished project we leave for you.
Services We Offer Our Local Homeowners
When it comes to taking care of our customers in Winchester and beyond, you should know we offer:
Decks and Patios
Windows and Doors
Kitchen and Bathroom Remodeling
Renovations
Additions
Fencing
Gutters
Handyman Service
Finish Carpentry
Drywall Installation and Repair
Roofing
Custom Creations
Rental Repairs
Painting
Staining
Storm Damage Repair
Vinyl Siding
Framing
Flooring
We can make minor changes or full-scale renovations. Your wish is our command, and we promise results you'll fall in love with.
We use the finest materials without breaking your budget. Add to that superior craftsmanship, and you have finished results that are unsurpassed.
Kitchen & Bathroom Remodeling Experts
It's no surprise that the two most common service requests we get are for kitchen and bathroom remodeling. Changing one or both of these rooms in your room will make a drastic impact.
We'll show you exciting options you have for changing components like:
Flooring
Lighting
Appliances
Cabinets & Storage
Updating & Upgrading
The kitchen is the cornerstone of the house. We want to create a space where you and your family feel comfortable in.
The bathroom is a little more complicated, primarily because homeowners have become accustomed to ignoring the potential this room has. Our goal is to give you a relaxing place that feels like your own personal oasis.
The bottom line is that you should love every room in your home, and if you don't already, we're going to make that possible. Imagine the home you already have but improved to match the image you have of your dream home.
You and your loved ones deserve a place that looks and feels like the quintessential definition of home sweet home. If it's anything less than that, you're settling for less than you deserve.
Call us now to schedule an appointment with the premier Winchester remodeling contractor.
---
Latest Projects in Winchester
During this particular project our client had two dated bathrooms in her home. She wanted them remodeled to be more modern in appearance and improve the functionality in both spaces. First our team demolished an interior wall to give more space to the master bathroom, this […]
---
There are currently no reviews or testimonials; check back soon!