Update Your Winchester Home's Bath Space with Bathroom Remodeling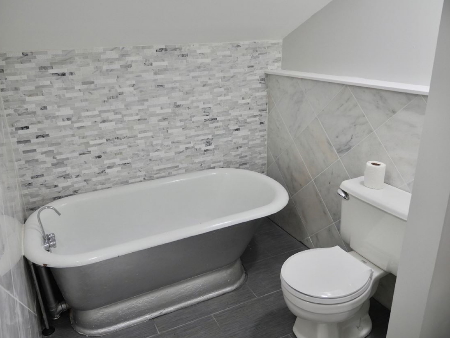 Fryer Construction LLC continues to win over local Winchester customers by providing homeowners with the best in bathroom remodeling. We're more than your average professional remodeling contractor; we're skilled renovation specialists, and we're dedicated to customer satisfaction.
You'll be nothing less than amazed at the difference it makes for your home by making changes like bathroom or kitchen remodeling completed. It changes the room, but it also alters the way the entire house feels.
It's like a chain reaction, and you and your family will enjoy your house more. Plus, it helps by increasing the property value making this project a wise investment with a good return on investment.
Decorative Vanities
A critical factor in implementing into your bathroom remodeling is a decorative vanity. You may already have one you'd like to replace, or your bathroom may be missing this critical ingredient.
Some of the benefits of a vanity:
Better Organization
Conceal Clutter
Add Sophistication
Reflect Your Personality
Customize the Look & Layout
As with most of the details that go into transforming your bathroom, you have lots of options when it comes to vanities to choose from. You can keep it simple or make it quite ornate; go with functional or beautiful.
Finding the ideal vanity is about finding one that fits well in the amount of space you have while making it feel like you have more space. It should use the available space wisely and organize your bathroom, so it actually feels like you have more space now.
His and Her Sinks
There's probably no better solution to bathroom problems than his and her sinks. No matter how large or visually appealing your bathroom is, it can easily become a cluttered mess.
Having space for two people can make all the difference.
Time-Saver
Quality Organization
Gaining Valuable Space
Perfect for Every Bathroom
Increase Value & Aesthetics
Having his and her sinks are as close to each partner having their own bathroom in the same space as possible. It's a game-changer and will finally make it easier and more realistic for two people to get ready at the same time.
We'll show you options that you have and find the ideal vanity to suit the needs of both him and her. This feature has become the expected solution for master bathrooms, and it's time you add it to yours.
Contact Fryer Construction LLC today, and let's get cracking on your bathroom remodeling and start improving your Winchester home.
---
Latest Bathroom Remodeling Projects
During this particular project our client had two dated bathrooms in her home. She wanted them remodeled to be more modern in appearance and improve the functionality in both spaces. First our team demolished an interior wall to give more space to the master bathroom, this […]
---