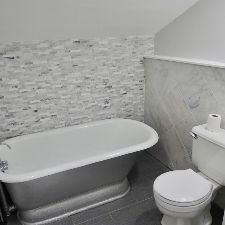 Remodeling is as much about avoiding common mistakes as it is making wise decisions. It starts by hiring the best remodeling contractor in Winchester, KY, for the job, which is obviously Fryer Construction LLC.
From there, we'll help you learn what choices to make and what pitfalls to avoid, such as:
Ignoring the Need for Fans & Ventilation
Not Having a Plan or Budget
Failing to Have Enough Lighting
Not Spacing Properly
Choosing Materials Not Meant for Moisture/Humidity
It would be easy to believe that every remodeling job, when handled by a professional, works out perfectly. Unfortunately, contractors lacking experience or who just don't care as much as they should about their customers tend to make these errors.
Your satisfaction is our number one priority, so we'll be able to avoid mistakes and guide you in the right direction for your project. Call us today to schedule your appointment for a consultation or service for remodeling in Winchester.