Cook up a New Design For Your Winchester Home with Kitchen Remodeling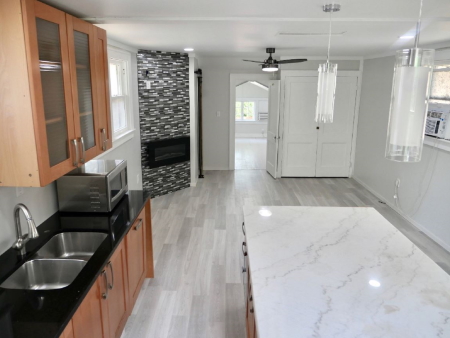 If you own a home in Winchester, at some point, you're going to need to take on a kitchen remodeling project. Since it's much too extensive a job to even think about doing a DIY job, you'll need a reliable remodeling contractor.
At Fryer Construction LLC, we've been taking care of our customers and earning the impeccable reputation that we have. Our high-quality renovation work is how our name has become synonymous with superior craftsmanship.
From concept and design until the finished kitchen remodeling, we're with you every step of the way. We'll make sure you feel good about the look and layout of your updated and upgraded kitchen space.
Custom Kitchen Cabinets
No kitchen remodeling job is complete without addressing the topic of the cabinets. One option is to keep them; another is to refinish your existing cabinets.
However, making the switch to all new custom kitchen cabinets is a game-changer for homeowners because:
They fit your layout perfectly
They make better use of your existing space
They increase the value of your home
They make your kitchen more user-friendly
They're made from the material you want
If you've considered custom cabinetry before, it was probably for a project like your bathroom remodeling. Having cabinets tailored to your needs and your available space just makes perfect sense, especially when compared to stock made cabinets that waste perfectly good space.
Fryer Construction LLC uses quality materials and design work to create the best-looking cabinets. Plus, you'll finally have space-savers with unbeatable organizational capabilities.
Avoiding Kitchen Remodeling Blunders
The first rule of coming away satisfied with your remodeling task is making sure you hire the right team for the job, and we've got you covered there. There are some other things to consider to help avoid tragic renovation mistakes in your culinary space:
Skipping Modern Appliances
Sufficient Lighting Failure
Countertops with Realistic Maintenance Requirements
Lacking a Plan and/or Budget
Moving Plumbing
The object of working with the right remodeling expert isn't just about the materials and labor, although that matters too. It's about getting feedback and guidance from industry professionals who care.
If the quality of jobs they accomplish is more important than the quality of each job, that's not the type of contractor to work with. Your renovations should hold you over for years to come, but shoddy work leaves you ready to remodel again immediately.
Your satisfaction is our priority and guarantee. Call us today for superior results from our Winchester kitchen remodeling pros.
Latest Kitchen Remodeling Projects
This customer experienced significant water damage in their kitchen and bedroom due to a pipe burst in their kitchen. Fryer Construction removed 3 layers of flooring, cabinets, and trim in preparation of the replacement flooring. Fryer Construction installed 19/32 sub floor and 1/4" plywood to provide a […]