How to Find A Remodeling Contractor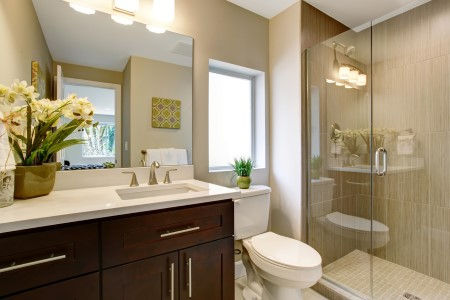 There are indeed many different parts to your bathroom remodeling project, and these facets are what determines how successful the job is. The most critical detail of making the project a successful one is hiring the right remodeling contractor.
The professional you decide to work with will make a world of difference in how well your plan is executed or not. In fact, this expert is the one who will ultimately come up with the design that is the plan that acts as a roadmap to make your project a successful one.
So, choose wisely and avoid anyone too focused on how fast they get your job done, instead of how well it's carried out.
Choosing the Perfect Remodeling Contractor for Your Bathroom Renovations
The bottom line is that a full-scale bathroom renovation project is too significant a process to attempt to do yourself. You're going to need a professional remodeling contractor so that your job is successful.
The bathroom is smaller, and you need a professional who can make magic happen with less space to work with. Some tips for making sure you hire the right professional are things like:
Ask people you know and trust for referrals. It's good to be able to see their work firsthand and get feedback about how they performed as a professional.
Always verify proof of licensure and insurance. There's no good reason to work with a so-called pro who fails to secure the bare minimum requirements for working in this industry.
Screen multiple candidates. Ask questions, review their portfolio, and get a general feeling for how well you think you'll be able to work together.
When hiring a contractor that does more than bathrooms, make sure they've done bathrooms before. Ask for pictures of their bathroom remodeling work and references to contact.
Don't base your decision solely on the price. Hiring a "pro" who cuts corners to offer a rock bottom price isn't going to be the best way to arrive at a new bathroom you'll love.
Choosing the Way Other Winchester Residents Have
When good value and high quality is what you seek, you've come to the right place. Look no further than the team of experts here at Fryer Construction LLC.
We've been proving our worth to local residential customers by delivering the finest in superior remodeling jobs, including bathrooms. Now, we're eager to begin the process with you.
Contact us now to schedule service with the best Winchester remodeling contractor there is.